Many people consider eating as one of their most favorite activities, even when traveling. But we all know that filling our tummies can be detrimental to our budget if we are not mindful about it. Those delectable foods you've been looking forward to trying can easily make you forget the budget plan that took you days to complete.
Foods, especially in popular tourists destinations, can be really costly. But that doesn't mean you have to deprive yourself of the good stuff. There are several ways in which you can enjoy your meals throughout the day without hurting your bank account.
1 | Book Accommodations with Breakfast Included
Filipino Breakfast | Image Source
Choose an accommodation that offers free breakfast. If the one you're eyeing doesn't have such an offer, consider other options. Else, you'll be forced to drag yourself out of the hotel every morning since ordering breakfast at the hotel can be more expensive than eating elsewhere. Breakfast at the hotels usually start at $4 USD and can go higher for add-ons. Meanwhile, there are local eateries or even fast foods offering meals complete with coffee or hot choco for as low as $2 USD.
Several hotels in the Philippines, even budget-friendly ones, offer free breakfast and even has options for local and Western guests.
2 | Street Food & Fast Food
Filipino Street Food | Image Source
Be it street food cart, American fast-food chain McDonald's, or the country's very own Jollibee, you can save a significant amount of money when you consider eating at these food establishments.
With street food carts, not only will your few bucks go a long way. You will also get to take a peek to the lives of the locals. However, always be careful to prevent medical emergencies such as indigestion or allergies. You can ask your hotel for recommendations on where to find a safe place to eat street foods. Also, a food cart that is approved by the local health to operate should display a valid and up-to-date health and sanitation certificate.
3 | Splurge on Lunch
It may not be as common in the Philippines as it is in Europe but several restaurants in the country have adopted the lunch specials offer in which you can get the same meal for dinner at a cheaper price during lunch time.
Restaurants usually announce such offers on their social media accounts so it's a good idea to follow them to keep yourself updated.
4 | Binge on a Buffet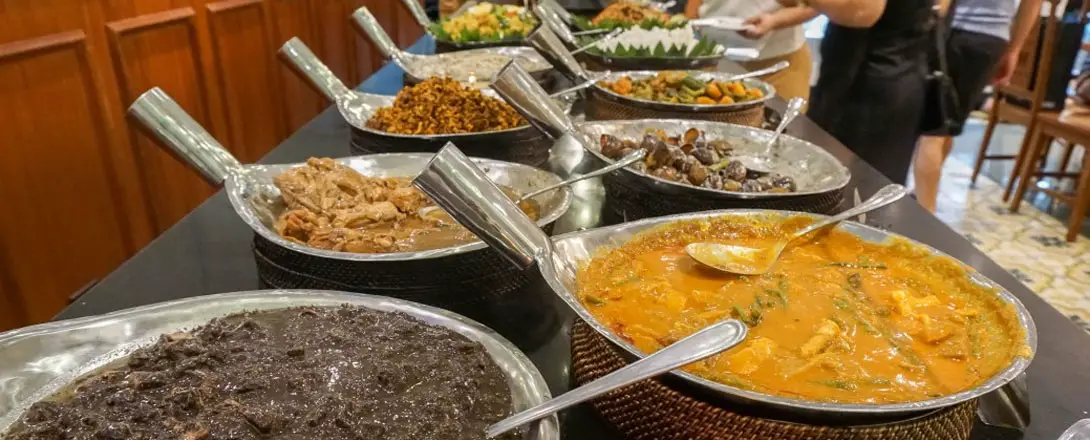 Filipino Food Buffet | Image Source: konyoqueen.com
Filipinos love to eat so finding buffet offers isn't that hard. Locally known as eat-all-you-can, you can literally eat as much food as you can. You can load up during lunch, skip your afternoon snacks, and opt for light dinner, therefore saving you money.
You can even find specialized buffets such as seafood buffet, pasta buffet, a Chinese buffet, a Japanese buffet, an international buffet, and even a dessert buffet. The cost of buffet meals range from $6 USD to $20 USD in budget and mid-range restaurants but can go as high as $80 USD in luxury restaurants and hotels.
5 | Take Advantage of Happy Hour Specials
Save a lot of money by taking advantage of happy hour deals. In the Philippines, happy hour deals entitle you to free drinks and hors' d'oeuvres at a certain time of the day.
6 | Don't Forget Tourist & Student Discounts
It may not be available all over the Philippines but there are destinations, especially in big cities, that sell passes or cards giving the bearer free access to their attractions. These passes usually entitle the bearer to dining discounts that are anywhere from 10% to 20%.
7 | Cook Your Own Meals & Drink at Home
If available, choose accommodation with kitchen facilities. Cooking your own food not only saves you money but it also ensures that you are eating foods cooked the way you want it and based on your palate (for discriminating eaters). You are likely to prevent allergies too since you know what's in your meal.
The use of kitchen facilities could either be free or requires a minimal amount for gas or fuel.
8 | Pack Snacks
After you have settled at your hotel room, you can head to the nearest grocery or convenience store and stock up on snack items and emergency foods such as fruits and granola bars which you can conveniently take with you on your tours and adventures. While they don't cost much at the grocery, the price can double when in popular attractions, more so in remote islands.
9 | Avoid Soda
Apart from being unhealthy, sodas are expensive and have even become more expensive in recent years due to the new tax bill that increases the tax rate for alcoholic and sugary drinks.
While an ice-cold Coke or Pepsi seems like a good way to quench your thirst in a tropical climate, buying a can or two every day for say, two weeks, can add up which is not really a wise move.
10 | BYOW (Bring Your Own Water)
Hydration Pack | Image Source
Staying hydrated is important when traveling, particularly in a tropical country like the Philippines. While water is cheap, it can add up when you purchase a couple or so bottles every day. Bring your own water bottle and have them refilled at water refilling stations which can be found almost anywhere in the Philippines. You can have your bottle refilled for as low as Php5 ($0.10 USD). Some hotels even have water dispensers for guest to refill their bottles for free. Apart from saving money, using refillable bottles is Earth-friendly too!
Tip From Patrick
I always carry a Camelbak Hydration Pack with me when traveling. Not only does it allow me to pack all my daily gear and snacks, but it also has a 3-liter water bladder which holds enough water to get me through the entire day. Check it out below. I literally NEVER leave home without it when traveling!
Camelbak Hydration Pack
Eating on a budget while exploring the Philippines isn't that hard now that you've read the tips above. When you are determined to follow them, you are definitely in for some savings!